Imbibis
Meet our chief distiller: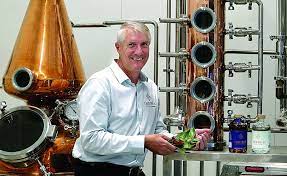 Imbibis handcrafted, artisan gins and brandies are made in Ipswich, in the heart of Southeast Queensland, by our highly experienced chief distiller, Jason Hannay.
Jason, an award-winning winemaker, had a dream of crafting bespoke, artisan spirits from Queensland produce. Imbibis is that vision realised.
Before founding Imbibis, Jason had 20 years' experience in the Queensland wine industry and some 600 distillation runs to his name. With his passion for wine, it was inevitable that the humble grape would be used in the production of his gins and brandy.
Creating his spirits isn't just a job for Jason – it's how he expresses his love of local wine, gin and brandy into something tangible, something beautiful he can share with others.
It's how he combines his passion for the science behind distillation with the artistic freedom required to capture and create the unique flavours his products are renowned for.
Imbibis award-winning products are handcrafted in a bespoke copper pot still that was designed by Jason specifically for small batch processing, adding to the unique experience that comes with discovering an Imbibis gin.
The Imbibis philosophy is based on creating spirits with integrity, with only the highest quality local products and produce utilised, while respecting nature, to create a memorable drinking experience.
Imbibis is more than just a drink … it's an experience.
Website Website